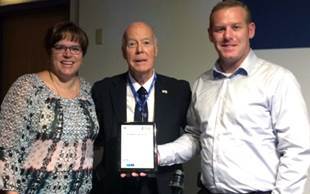 The air ambulance program and Operations Manager James Orchard were honoured at the 8th Annual EMS Research Day held in Halifax Wednesday, October 26, 2016.
Manager Cathy Cormier and James partnered with the NB Trauma Program to produce an abstract entitled, "Impact of a Pre-alert Program for Air Ambulance Response to Major Trauma Patients in a Provincial, Inclusive Trauma Program: The New Brunswick Experience."
They were one of 13 presenters and their abstract was awarded the Dr. Ron Stewart EMS Research Award for Most Significant Research in EMS Conducted by a Paramedic.
Congrats to the air team, and particularly to presenter James and the six authors (James Orchard, Cathy Cormier, Dr. James French, Allison Chisholm, Dr. Tushar Pishe and Ian Watson).
This post is also available in: French